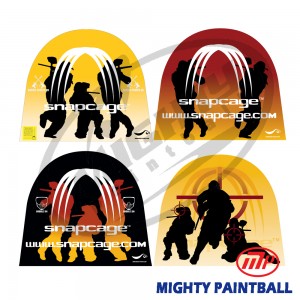 Create your own skin for your snapcageTM. You can download the template file and make the modifications. Make sure your file resolution should be large enough for 8' x 7' printing size.

For the front entry design, make sure you keep the warning logos "goggles on" and "barrel plug on" on the design.

eMail your design files to design@snagcage.com after payment and list the transaction ID in the subject line so that we can match your file with your order.

click here to view the custom skin samples.
Personalized Whole Skin Set - 4pcs set
Product Code: MP-SC-CM4S
Availability: In Stock