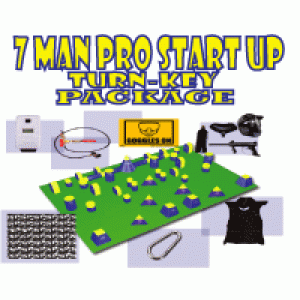 7 Man PRO Turn-key Package includes:
7 man PRO Smart-Bunker standard pack (45 bunkers included);
2 roll of 12' x 300' grommet netting for suggested field size of 100' x 200';
2 rolls of 300 meter (986 feet) of steel cable;
800 Carabiners for netting use; 20 pcs of turnbuckle;20 pcs of U bolt;
25 Tippmann 98 ACT Rental Marker packages, including gun, mask, hopper and CO2 tank;
30 body armors;30 neck protectors;30 arm bands;6 referee jerseys;
2 hand held radar chrono;1 large table radar chrono;
2 CO2 fill stations;2 digital scales;
1 set of safety/warning signs(10 signs selection);100 O rings;
** This package can be modified to meet your special need, call us for custom field package quote.
** This item is over 150LB and must be shipped via commercial truck service. Free freight shipping to commercial address in lower 48 states only.
** Non-commercial address delivery charge (extra $50.00) and/or lift gate truck delivery charge if needed (extra $50.00) will be added to the invoice if your address is a non-commercial address.
** Commercial address refers to the business location such as warehouse in business and/or industrial area, with loading dock or having fork lift onsite for unloading;
** Non-commercial (limited access) address refers to home, farm, church, school, all government agency and location. Some commercial locations have limited access and require extra time to get in and out, such as port terminals, etc. are also classified as non-commercial address.
7 man turn-key PRO startup field
Product Code: MP-7P-TKSP
Availability: In Stock