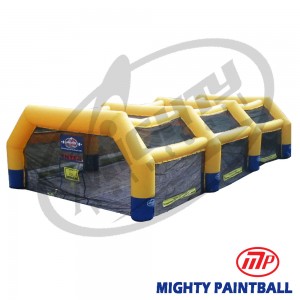 Megarena IIITM - The smaller version of our MegarenaTM, made from same DuroFabTM - specially weaved fabric, featuring light weight and paintball impact proof. This fabric is 3 times stronger than regular nylon fabric. The MegarenaTM has been used in hundreds of events worldwide operated by its owners, proven to be the best mobile paintball arena. See why you should buy MegarenaTM
Megarena IIITM Deluxe Package includes:
60' x 30' X 15'H inflatable paintball arena with side and top netting included;
All accessories for the inflatable arena are included, such as blowers, tie down, stakes and pegs;
13 Smart-BunkerTM is also included for 2 man or 3 man format game;
26 units of water sand bags included for bunker hold down use;
1 unit of Smart-BunkerTM Blower included
All accessories for the bunker package are included, including repair kit, etc;
1800 plus square footage of artificial turf matching the area;
10,000 Mighty BallsTM (reusable paintball);
1 unite of 24" wide ball picker included, a MUST have to pick up the balls;
10 Tippmann 98 ACT Rental Marker packages, including gun, mask, hopper and HPA tank;
10 body armors;
10 arm bands;
10 neck protector;
2 referee jerseys;
2 hand held radar chrono;
2 CO2 fill stations;
2 digital scales;
1 O rings Kit (310 PCs set);
see the image gallery;



****** ****** ***** *****

Mighty Paintball is the original designer and manufacturer of the MegarenaTM. There are copycats of our MegarenaTM in shape and looking. However, they are never able to match the quality and design of our MegarenaTM. Here is the quick comparison

MegarenaTM.
Copycat arena
Notes
Material
exclusive DuraFab material - 3 times stronger than regular Nylon/Oxford fabric
regular nylon/Oxford fabric
see Data Chart
Fire Retardant Certificate
Original manufacturer, FR Certificate stitched on the MegarenaTM.
not available or not specified
without the FR certificate, you may be shut down by the fire marshals.
Paintball Netting
Meets or Exceeds ASTM standard
not available or not specified
Safety concern
Blowers

50'x100' - 4 blowers needed

40'x80' - 3 blowers needed

30'x60' - 2 blowers needed

50'x100' - 6 blowers needed

40'x80' - 4 blowers needed

30'x60' - 3 blowers needed

better material results in better air seal, more energy saving and easy operation
EZ Packing wheel

5' metal wheel is provided for EZ handling

(40x80 & 50x100 models only)

not available or not specified
save your time and labor
Setup time
less than 30 minutes with 3 trained staffs
take up to 6 hours as reported from the user.
save your time and labor
Handling Tools
no tools needed to move and set up
may need lifting and moving tools
save your time and labor
Labors
3 trained staffs
3-6 staffs
save your time and labor
Designs
Lots know-hows, hard to be copied
copy of shape and looking, not detail-oriented
save your time and labor
Onsite Training
we provide the paid onsite training
not available or not specified
help you to get started

Please contact us if you like to get more details about our MegarenaTM.
Megarena III Deluxe Package
Product Code: MP-MA-1005D
Availability: In Stock